Proposal Management Toolkit
Consolidate Proposal Management Data with Customizable Templates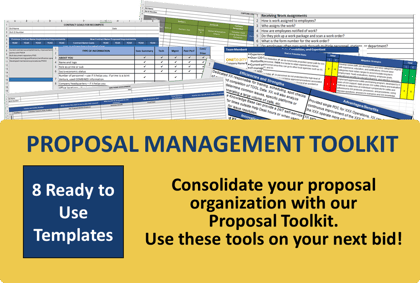 As a proposal manager, you visualize the proposal big picture while focusing on every small detail.
You schedule hundreds of tasks with multiple dependencies to be completed in a relatively short time.
OneTeam's Proposal Management Toolkit provides several tools that can be customized to your proposal development process. Feel free to use these tools on your next bid!
Sample Risk Matrix for Risk Management Plan

Sample Risk Identification & Mitigation Graphic

Strategic Team Proposal Graphics

Proposal Management Plan

Technical Workflow Interview Questions

Sample Technical Approach

Win Themes Development Matrix

Contract Goals Template